Posted on:

January 22, 2023
السلام عليكم ورحمة الله وبركاته
Dear Brothers/Sisters in Islam,
Please make an effort to sight the Hilal on Sunday, January 22, 2023, for the month of Rajab 1444.
Alhamdulillah, by the joint effort of all the Ulama and great cooperation throughout the States, we have revived this forgotten Sunnah of moonsighting throughout the year in many localities all across the nation.
The birth of the Hilal for Rajab 1444 will take place on Saturday, January 21, 2023, at 3:53 pm EDT (20:53 UTC).
Information about the Hilal for the 29th of Jumada al-Thani, 1444 ( Sunday, January 22, 2023 ) for some locations where CHC Representative Ulama Kiram make regular, organized moonsighting efforts are below.
(All times are in their respective local time zones.)
RAJAB 1444

29th OF JUMADA AL-THANI: SUNDAY, JANUARY 22, 2023

Region

City

Sunset

Moonset

Lag Time

Moon Age

Altitude

Northeast

Boston, MA

4:45 PM

5:46 PM

61 M

24:52

8°

Stamford, CT

4:59 PM

6:00 PM

61 M

25:06

8°

New York, NY

5:01 PM

6:02 PM

61 M

25:08

8°

Jersey City, NJ

5:01 PM

6:03 PM

62 M

25:08

9°

Baltimore, MD

5:15 PM

6:18 PM

63 M

25:22

9°

Southeast

Springfield, VA

5:19 PM

6:22 PM

63 M

25:26

9°

Atlanta, GA

5:57 PM

7:04 PM

66 M

26:04

11°

Ft. Lauderdale, FL

5:56 PM

7:02 PM

66 M

26:03

12°

Midwest

Chicago, IL

4:53 PM

5:58 PM

64 M

26:00

9°

Detroit, MI

5:33 PM

6:36 PM

63 M

25:40

8°

Houston, TX

5:51 PM

6:59 PM

69 M

26:58

12°

Kingman, AZ

4:54 PM

6:06 PM

72 M

28:01

11°

West

San Diego, CA

5:12 PM

6:25 PM

73 M

28:19

12°

Stockton, CA

5:17 PM

6:30 PM

73 M

28:24

11°

San Francisco, CA

5:22 PM

6:35 PM

73 M

28:29

11°

Northwest

Seattle, WA

4:55 PM

6:06 PM

71 M

28:02

8°

Portland, OR

5:03 PM

6:14 PM

71 M

28:10

9°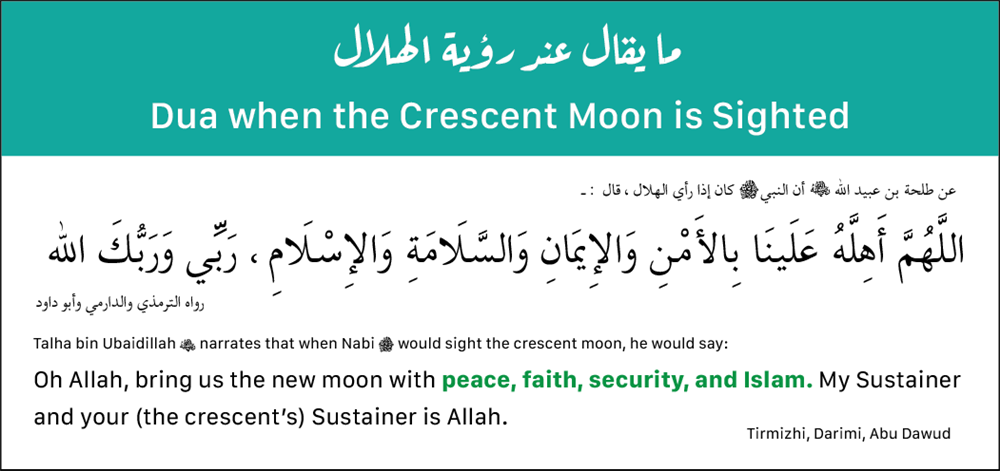 JazaakAllah Khair,
Central Hilal Committee (CHC)
Latest News
Latest News and Announcements